Bethlehem: A Novel (CD-Audio)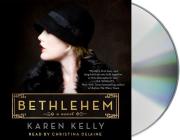 Description
---
"Christina Delaine's voice can be smooth as dark chocolate or sharp as a razor....Delaine's performance highlights the family tensions as well as the love, caring and sacrifice that lead to trust and understanding." -- AudioFile Magazine

With the atmospheric storytelling of Kate Morton and Lisa Wingate, Karen Kelly weaves a shattering debut about two intertwined families and the secrets that they buried during the gilded, glory days of Bethlehem, PA.
A young woman arrives at the grand ancestral home of her husband's family, hoping to fortify her cracking marriage. But what she finds is not what she expected: tragedy haunts the hallways, whispering of heartache and a past she never knew existed.
Inspired by the true titans of the steel-boom era, Bethlehem is a story of temptation and regret, a story of secrets and the cost of keeping them, a story of forgiveness. It is the story of two complex women—thrown together in the name of family—who, in coming to understand each other, come finally to understand themselves.
About the Author
---
Karen Kelly has a BA in English from Vanderbilt University, and lives in Edina, Minnesota. She is the author of Prospice and Bethlehem.

Christina Delaine is a SOVAS Voice Arts Award and multiple AudioFile Earphones Award-winning narrator who has recorded over 100 audiobooks. She is also an Audie Award nominee. An accomplished stage and voice actor, Delaine has appeared on stages across the country and has voiced scores of commercials and video games.
Praise For…
---
"Bethlehem has stories to tell, and even those stories carefully hidden generations ago eventually resurface. Mystery, first love, and long-held secrets fold together in this atmospheric tale of a family coming to a long overdue reckoning… and finding a way to rise from the aftermath." —Lisa Wingate, New York Times bestselling author of Before We Were Yours
"With delicate and insightful prose, Karen Kelly sweeps us into the psyches of two deeply entwined families as their lives—and secrets—unravel. A haunting debut, Bethlehem will pull you in from start to finish, and leave you grappling with the timeless quandary of when to bury the truth, and when to confront it." —Georgia Hunter, New York Times bestselling author of We Were the Lucky Ones
"Bethlehem is an extremely deft first novel about the love that is lost and found when family secrets are kept for generations. Karen Kelly is the real deal." —Mark Sullivan, New York Times and USA Today bestselling author of Beneath a Scarlet Sky
"A stirring tale of the strength women conjure and the secrets they cling to when youthful joys fade and heartache takes hold. Set against the backdrop of the Pennsylvania steel industry in the 1920's and 1960's, Bethlehem explores how far mothers will go to protect their families, and how far wives can be pressed before they push back. With passion and insight, Kelly has crafted a deeply moving story of empathy and forgiveness." —Lynda Cohen Loigman, author of the Goodreads Choice Finalist The Two-Family House and The Wartime Sisters
"Bethlehem is a slow burn of a novel, starting out with simple tales and quiet details that build to a rich and touching and moving tale. Generations of family secrets come unburied in the course of this novel, in ways that show how large the heart can be, and how healing the truth can be. The prose is vivid, the characters crackle with life, and the story of these two families will capture you. I read the last fifty pages with a continuous lump in my throat." —Stephen P. Kiernan, author of The Baker's Secret and The Curiosity